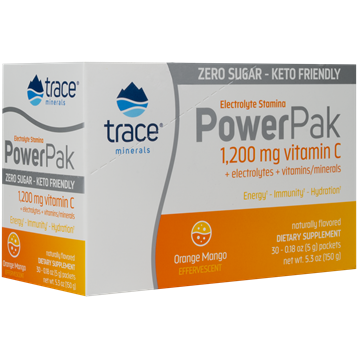 Electrolyte PowerPak- Orange Mango. Sugar-free
$20.00
Power Pak Electrolyte Packets are an easy-to-fix high performance energy drink with no caffeine, artificial flavors, or artificial stimulants.
Each Trace Minerals Power Pak contains all major electrolytes (potassium, magnesium, chloride and sodium), plus a full spectrum of ionic trace minerals from ConcenTrace, which supports the assimilation and absorption of vitamins, plus a solid 1200 mg dose of vitamin C for the immune system.
Electrolyte Replacement & Immune Support Drink

1,200 mg Vitamin C!

B Vitamins • Electrolytes • Antioxidants • Ionic Trace Minerals • Low Sugar

Non-GMO • Certified Vegan

Play Harder, Endure Longer

Gluten Free. No Sugar.  Keto-friendly 
Nutritional Facts:
Total Carbohydrate
1 g  
1%
Vitamin C (as Ascorbic Acid)
1200 mg. 
1333%
Thiamin [Vitamin B1] (as Thiamin HCL)
0.45 mg 
38%
Niacin (Vitamin B3)
5 mg 
31%
Vitamin B6 (as Pyridoxine HCL)
10 mg 
588%
Folate (as 20mcg of Folic Acid) DFE
33 mcg. 
8%
Vitamin B12 (as Cyanocobalamin)
25 mcg 
1042%
Pantothenic Acid (as d-Calcium Pantothenate)
3 mg 
60%
Calcium (as Calcium Lactate)
60 mg 
5%
Magnesium (from Magnesium Oxide, ITM)
100 mg 
24%
Zinc (as Zinc Oxide)
3 mg 
27%
Selenium (as Sodium Selenite)
35 mcg 
64%
Manganese (as Manganese Citrate)
1 mg 
43%
Chromium (as Chromium Amino Acid Chelate)
10 mcg 
29%
Chloride (from ITM)
15 mg 
1%
Sodium (as Sodium Bicarbonate)
75 mg 
3%
Potassium (from Potassium Citrate, ITM)
200 mg 
4%
Ionic Trace Minerals (ITM) A concentrated complex of full spectrum ionic trace minerals
100 mg
Boron (from Boron Amino Acid Chelate, ITM)
175 mcg
Other Ingredients:
Xylitol, citric acid, natural flavors, malic acid, steviol glycosides, turmeric (Curcuma longa) root extract (color), silicon dioxide